Changes to the Black Artists of DC WEB Site!! 
Because of recent issues with the BADC Web site we are forced to make changes to the site.  You the reader cannot see the issues only the Web Site coordinator is experiencing these issues.  You may have noticed that the WEB site is not being updated as regularly as in the past, this is a direct result of the issues with the construction and updating of the Web site.
Because of the large amount of information provided to our users and although we have an unlimited amount of pages we can provide you, the performance in the updating of the BADC WEB site has been erratic, forcing the Web site manager to shut down the updating of the WEB site for days and weeks at a time.  We do not expect you to understand, and quite frankly neither BADC Web site manager, our Web hosting, nor our WEB site managing companies, understand exactly what the problem is either.
So the WEB Site will be going through some changes.  You may have noticed that we have lost some of our information from time to time over the last year, this is a direct result of the issues.  We hope the new changes will help to resolve those issues and put the updating of the WEB site back on a more regular schedule.
BADC WEB Site will
No longer keep information longer than one calendar year.
No Longer have separate pages with indexes to prior years
Will no longer list any item that is indicated as having risky links or inadequate information (ie proper links to information)
Will limit graphics on some pages
Will keep items taken from the BADC WEB site offline which can be requested to be sent to you if you are a member.
We hope these changes will not inconvenience you and thank you for understanding.  Remember this WEB site is managed on a volunteer basis so anything you want posted on the site you must give BADC amble time to do so.
WEB Master
webmaster@blackartistsofdc.com
Check out the latest News of our BADC Members click here
---
BADC MONTHLY MEETING

BADC meets the third Sunday of each month Change of Date this month's meeting will be at the Riggs Lamont Neighborhood Library at 1:30 PM Our next Meeting is on Sunday, June 24th, 2018. The address of the library is 5401 South Dakota Ave., NE, Washington, DC
The meeting will start promptly at 1:30 PM. Additionally, members are encouraged to bring food that is prepackaged. For food safety reasons, we can only bring food that is prepackaged in a store. This includes prepackaged sandwiches, cookies, drinks etc.
---
BADC In My Mind's Eye
BADC & Pepco Edison Place Art Gallery
Present
In My Minds Eye
Closing Reception and Artists Talk February 28th, 2018 5 pm until 7 pm
Pepco Edison Place Art Gallery, 702 8th Street, NW, Washington, DC 20068 (map)
Exhibition runs from February 1st through February 28th, 2018,  Operating hours are Tuesday thru Friday 12 Noon until 4 pm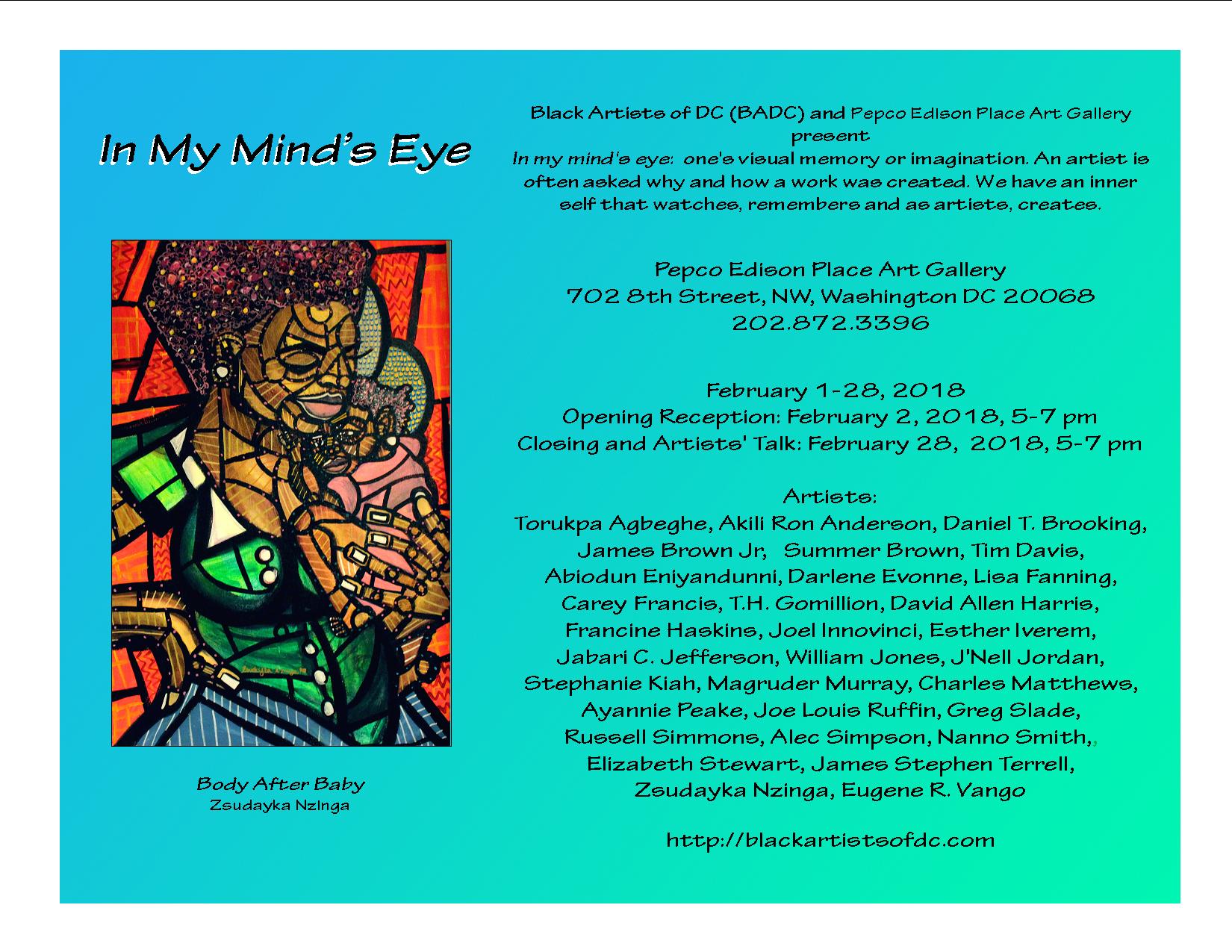 ---
Portraits of Who We are: Elements That Define Us
This exhibit includes many present and past members of BADC
now thru May 26th, 2018  Click here to see details of the exhibition
---
   
Congratulations to Brinille Ellis for her assignment to Tanzania
*
NEW! 
(Posted 11/12/2017)
Our Brinille Eliis has entered East African Art Biennial and has several works in this exhibition.  Read her email to BADC
here
---
**Check out our new feature on the right side of the page.  We have added a calendar which list local Events, seminars, and classes.  Go to the Metro DC News and Events page to view more information about the event.  BADC is always striving to make your experience better and more helpful.
---

ATTEND Upcoming Events and ongoing Exhibition with BADC Artists
BLACK ARTISTS OF TODAY: REINVENTING TOMORROW, RESIST, and more; VIEW MORE INFO
---
Congratulations to our own Claudia Aziza Gibson-Hunter, First Place at the Hill Center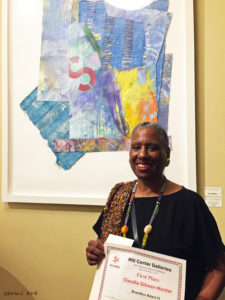 NEW! (Posted 6/29/2017) Claudia Aziza Gibson-Hunter won FIRST PLACE at the Hill Center Galleries Regional Juried Exhibition.  There were 120 artists.; VIEW MORE INFO
---
Congratulations to our own TH Gomillion on second place at the Penn Relays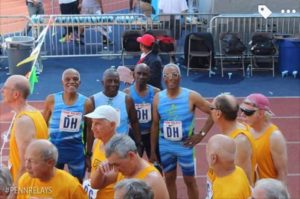 ---
WE WHO BELIEVE IN FREEDOM  
BADC thanks all of you for your support for a successful Exhibition.  Now that the exhibition is completed our participating artists want to take time to thank the principles who helped make this a successful event.  Many thanks to Daniel Brooking, Russell Simmons, Nano Smith, and the other members of BADC that helped with this Exhibition.  BADC also wants to give a big thank you to all the supported this exhibit with your interest, attendance, and purchases.


---